Hiking the Wissahickon Trail
"Hiking the Wissahickon Trail" – Is a pencil drawing by artist Nicholas Santoleri.
Also available as an open edition, hand signed print, reproduced from the original pencil drawing.  
Philadelphia's Cobbs Creek Park is the subject a many of my paintings and drawings.  The Wissahickon Valley, Forbidden drive, Valley Green Inn and the numerous attractions along the Wissahickon Creek have long held a prominent part of my artist portfolio . It's rich history and stunning natural beauty beckons me from time to time.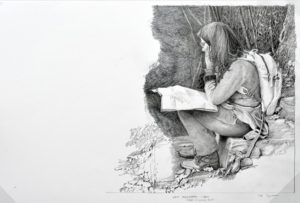 Hiking seems to be popular with the people that surround me lately.   One of my daughters enjoys "mud runs" and a couple of friends are on a quest to hike as many National Parks as they can.  With this in mind, I decided to create this drawing. The essence of hiking in one of my favorite places, the Wissahickon trail.
The model and the landscape are aggregates of people and places. I wanted the hiker to be semi anonymous to create the feeling of every female hiker, with a certain cautious determination about her. The background was created from memory mostly of the Wissahickon Trail. I am very proud of this drawing. 
The original pencil drawing was reproduced on acid free fine art paper. 
The image size of the original pencil drawing is 14.5 x 23 inches. 

The original pencil drawing was created in 2017-18.

The regular print image size is 9.75 x 13 inches. Printed on 14″ x  16″ fine art paper.   

♦Standard Sized Framing 

The larger size print image size is 12.5 x 20 inches. Printed on 17″ x  24″ fine art paper.

Each print is hand signed, in pencil, by the artist. 
"Hiking the Wissahickon Trail":
| Artwork | Status | Price | Purchase |
| --- | --- | --- | --- |
| "Hiking the Wissahickon Trail" Original Pencil Drawing | Available - a one of a kind, original pencil drawing professionally framed and matted. | $3,600 | |
| Open edition print - 9.75 x 13 Inches Hand signed in pencil by the Artist. | Available | $40 | |
| Open edition print - 12.5 x 20 Inches Hand signed in pencil by the Artist. | Available | $60 | |
| Pack of Note Cards (5″ x 7″). 10 Cards Packaged with 10 envelopes. | Available | $20 | |
 Also See: